What will a geothermal heat pump lake loop installation cost you?
To check availability, call us at 1-800-360-1569 or visit our online store.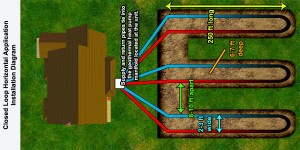 Geothermal heat pumps are becoming more and more popular and every year thousands are installed in the United States alone. The attraction is obvious, since geothermal heat pumps can cut energy bills in half in some cases and provide year round heating and cooling without the need for separate units. Consumers interested in installation of a geothermal heat pump likely have many questions about what it is going to cost them and which kind they should get.
Unfortunately, it does cost more to install a geothermal heat pump due to the fact that in most cases some earth moving must be done by knowledgeable contractors. Sometimes this could cost five times as much as a regular installation, but not always. Some kinds of geothermal heat pumps are cheaper than other. Lake loop installations are among the lowest cost geothermal heat pump designs and, as happens to be the case, among the most energy reducing. This makes them ideal for consumers looking to save money.
As you might have guessed a pond or lake loop geothermal heat pump must be installed in a large body of water near the residence. This does reduce the number of people who could potentially install such a system. If you do happen to live near a large body of water that meets the necessary characteristics, then a lake loop or open loop geothermal heat pump is what you want. Open loops are the most efficient, but not always legal. Either way both installations are among the lowest cost options.
So, if you are one of the fortunate few who have a lake or pond just out the back door and you are looking to save money on your energy bills, then installing a geothermal heat pump on a lake loop is what you want to do. Not do you get the added bonus of saving money, but your installation costs are lower than most other geothermal units.
To check availability, call us at 1-800-360-1569 or visit our online store.