US Stove King 2007 Pedestal Heater
To check availability, call us at 1-800-360-1569 or visit our online store.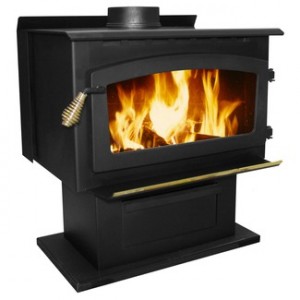 Whether you've taken up logging as a weekend hobby or just like the atmosphere a crackling fire can provide, then you might be interested in a wood stove. Modern wood stoves can provide great heating in winter for the whole house, might save you some money, and have great ambiance. The very newest generations of wood stoves can also equip special devices to reduce pollution and emissions while also making stoves safer than ever before.
American manufacturer US Stove builds wood stoves as a specialty and the King 2007 Pedestal Heater is one of their established units. The King wood stove is a powerful heater being able to warm up to 1,700 square feet of space and produces up to 103,000 BTUs. That's ample heating and more than a lot of households will ever use. This US Stove heater also includes an ash drawer inset in the pedestal for quick removal of ash and a cool-to-the-touch coil handle.
US Stove heaters like this King wood stove are also compact enough to be able to fit wherever you need them without dominating an entire room. This model in particular has a rustic look that will mesh well with many varieties of interior decor. Of course, to keep your home peaceful US Stove equips the King with a quiet 100 CFM blower. The interior is also firebrick lined to insure long life and efficient combustion. US Stove heaters also enjoy great warranty protection and this one is no different with a three year warranty on the firebox and other warranties on secondary parts.
To check availability, call us at 1-800-360-1569 or visit our online store.