Ultra Efficiency Trane Heat Pumps Reviews
To check availability, call us at 1-800-360-1569 or visit our online store.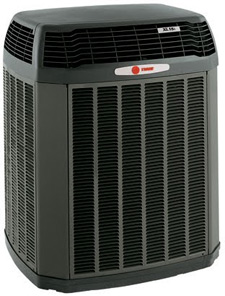 The Trane Company offers assorted makes and models of heat pumps. While some elements remain constant throughout most models there are substantial differences in energy-efficiency, warranty coverage, equipment options, and secondary components. Of various Trane heat pumps the XL20i and XL16i Ultra Efficiency Heat Pumps stand out as the top two models.
The XL16i Trane heat pump is, as the name implies, a very high efficiency heat pump able to attain up to an 18.00 SEER and 9.0 HSPF. ComfortLink II Communicating Capability is available on select models, Trane CleanEffects air filtration is standard, and the heat pump operates in two stages of cooling and heating. It also uses the ClimaTuff Staged Scroll Compressor, the all-aluminium Spine Fin outdoor coil, and most exterior parts or non-corrosive or painted with rust-resistant paint.
The XL20i Trane heat pump comes with all the bells and whistles of the XL16i, but adds additional options. The XL20i uses Trane's Comfort-R system to enhance the airflow, modulate humidity when cooling is required, and reduce temperature variance. The XL20i also features sound insulators on the compressors and can automatically adjust the multi-stage fan motor speed in order to maintain a lower operating volume.
Differences in model aside, the XL20i and XL16i Trane heat pumps come with virtually identical warranty options. Each scroll compressor is covered by a 12-Year Limited Warranty while the outdoor Spine Fin coils and internal functional parts feature 10-Year Limited Warranties. Both models can also take advantage of the same Optional Extended Warranties that Trane offers.
The XL20i and XL16i Trane heat pumps are very, very similar, but the XL20i does edge out its little brother in terms of automated controls and a slightly higher SEER rating (19 SEER as opposed to 18 SEER respectively). That being said, the XL16i is still a capable heat pump model and both will reduce average energy consumption and electrical costs.
To check availability, call us at 1-800-360-1569 or visit our online store.