Troubleshooting Common Central Air Conditioner Problems
To check availability, call us at 1-800-360-1569 or visit our online store.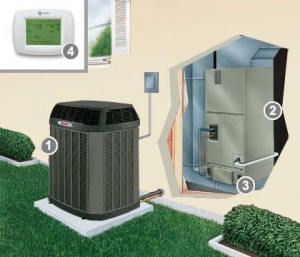 A central air conditioning system helps you to stay cool and refreshed during the hot months of summer. In fact, any problem affecting your central air conditioner can put you as well as your family in trouble. Here are some simple yet effective tips to troubleshoot and fix common problems that affect your central air conditioner.
If your air conditioner does on turn on, then check whether if there is any problem with fuse or circuit breaker. This can be checked by plugging electronic equipment into the same outlet where your air conditioner has been plugged in. If there is power to the electrical device, then it will be due to air conditioner problem affecting any of its components such as thermostat, compressor, relay, selector switch or control board. On the other hand, if there is no power to the appliance, then you will have to hire an experienced electrician to fix the outlet and restore the power to it.
Another common problem that may affect your air conditioner is the system not cooling efficiently. This may be probably due to ineffective performance of its fan blades. Hence, first check if the fan blade is hampered by any object in the form of limb or weeds. In such case, clear off limbs and shrubs that obstruct the rotary action of fan blades.
There are instances in which condenser unit will not turn on. This is mostly due to faulty compressor contactor or simply dust. Use a multi-tester in order to check whether there is any fault with compressor contactor. It would be enough to simply clean the contact points, if it is not found faulty. But, if it is faulty, replace it with a new one.
For best results, get your central air conditioning system inspected by a professional service technician, prior to the onset of summer. An experienced technician can easily troubleshoot and fix even the most minor or major problem that affect your air conditioning system.
To check availability, call us at 1-800-360-1569 or visit our online store.