Trane XL16c Packaged Heat Pumps
To check availability, call us at 1-800-360-1569 or visit our online store.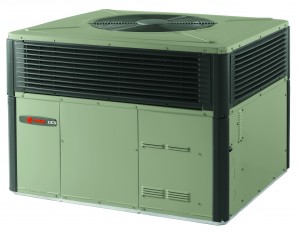 Every year more and more American consumers are turning to packaged heat pumps to meet their home heating and cooling needs. After all, heat pumps present an attractive choice versus traditional HVAC systems as heat pumps are more efficient, consume less energy, and provide the desired air comfort. Packaged heat pumps do it all that in one simple cabinet.
Trane is no stranger to the packaged heat pumps market and the XL16c is one of the better Trane heat pump offerings. The XL16c offers up to 16 SEER and 9.00 HSPF. 16 SEER is an excellent energy-efficiency rating which can substantially reduce energy bills and save money over time. Further, the 16 SEER rating is well in excess of the legal requirement, putting the purchaser ahead of the curve.
Of course, packaged heat pumps are not one unique component, but rather a conglomeration of separate parts working together in unison toward a single end. X16c Trane Packaged Heat Pumps feature a two-stage ClimaTuff compressor, a state-of-the-art fan system, variable speed blower motor, ultra-quiet operation to prevent home disruption, a heavy-gauge and two-tone powder painted cabinet, the Vortica blower as part of the advance airflow system, an all-aluminium Spine Fin Coil for long-life and enhanced airflow, and Electronic Demand Defrost.
All of the components are guaranteed and warranty covered. The compressor features a 12-Year Limited Warranty and all the other internal functional components are provided for by a 10-Year Limited Warranty. The purchaser may also opt for Optional Extended Warranties as they wish and as applicable.
XL16c Trane Packaged Heat Pumps offer substantial energy savings over time, more than adequate heating and cooling capability, and durable components covered by industry standard warranties. Packaged heat pumps are a good choice for anyone looking to upgrade their home heating and cooling system to become more environmentally friendly or just to save money.
To check availability, call us at 1-800-360-1569 or visit our online store.