Trane XB13c Packaged Heat Pumps
To check availability, call us at 1-800-360-1569 or visit our online store.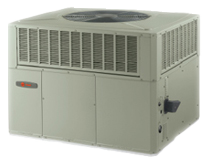 Another entry into the increasingly crowded heat pump market, Trane XB13c Packaged Heat Pumps offer year round heating and cooling while at the same time lowering energy consumption for the average homeowner. The XB13c is just one among many Trane heat pumps on offer and something of a 'middle ground' entry.
The XB13c comes equipped with exclusive Trane components like the Spine Fin all-aluminium coil, Weather Beater top, and Vortica Blower. The entire packaged system is encased in an all steel cabinet, convertible to either horizontal or vertical airflow, uses a spark ignition system, and can be coupled with supplementary electric heaters when extreme cold temperatures are expected in winter. That latter is nearly required for operations in northern climes due to difficulties heat pumps have during very wintry weather. However, electric heaters can alleviate those problems and will only be required on the coldest days.
Of course, Trane offers a manufacturer's warranty on all its packaged heat pumps. The XB13c comes with a 10-Year Limited Warranty on the compressor and a 5-Year Limited Warranty on the coil and the internal functional parts. Trane also offers other optional extended warranties that may cover labor and other costs not covered by the standard limited warranties.
Like the other 13-series packaged heat pumps, the XB13s cannot be considered a 'state-of-the-art' heat pump. That being said, it hits all the efficiencies required by Federal law and is superior to traditional heating and cooling systems. It would be a good choice for homeowners in climates with mild winters and who are not looking to spend a lot of money. With the standard warranty protection and regular maintenance, a consumer should be able to expect a heat pump like the XB13c to last for years of continuous operation.
To check availability, call us at 1-800-360-1569 or visit our online store.