Trane Packaged Heat Pumps Reviews
To check availability, call us at 1-800-360-1569 or visit our online store.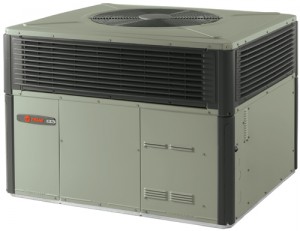 Packaged heat pumps can be a good choice for home heating and cooling as they are a complete system purchase that offer a more convenient option for buyers who don't want to take the time to mix and match components to get everything they need. Many HVAC manufacturers offer packaged heat pumps in a variety of models and with numerous secondary component parts.
Trane has five main offerings. Packaged heat pumps reviews of those models can be found at the Trane website and elsewhere on the wonderful world of the web. In brief, Trane offers the XL16c, XL14c, XL13c, XR13h, and XB13c. The numerical notation generally corresponds to the heat pumps SEER rating and, of course, the higher the better. Given that logic, the XL16c is the most energy-efficient model Trane offers and the three latter packaged heat pumps all come in with the same approximate SEER rating (13 to 14 SEER).
The XL16c also comes out on top with warranty protection. Trane offers a 12-Year Limited Warranty on the XL16c heat pump compressor and a 10-Year Limited Warranty on most everything else. The XL14c has only a 10-Year Limited Warranty on the compressor and a 5-Year Limited on internal functional parts. Warranty coverage only decreases from there, but all of the 13 SEER models generally have the same coverage. Trane's own packaged heat pumps reviews can be referred to for specific coverage on those models.
Just given warranty coverage and SEER rating the XL16c is by far the better option. It has the best of both categories and all together higher-quality components than the other systems. Of course, the XL16c is also more expensive than any of the other packaged heat pumps, but, as people are always fond of saying, "You get what you pay for."
To check availability, call us at 1-800-360-1569 or visit our online store.