Top Reasons to Buy ClimateMaster Tranquility Series Heat Pumps
To check availability, call us at 1-800-360-1569 or visit our online store.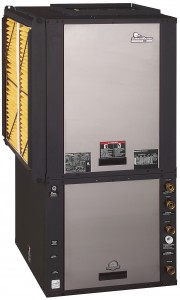 ClimateMaster's Tranquility series heat pumps are among the most preferred geothermal heating systems now available in the market. This is primarily due to top of the line features in the form of Earth Pure HFC-410A refrigerant unit, two-stage compressor, MERV 11 2" air filter and downflow configuration. There are also a number of factors that make it a popular choice among homeowners and residential users, such as:
Savings on Utility Bills: Since this heating system is highly efficient, it helps you to tremendously save energy and keep the utility bills down.
Top Notch Technology: This heat pump is the result of cutting edge geothermal technology and comes with advanced design that comprises two stage operation compressor and variable speed fan. With these features, the outcome is not only minimized bill but also maximum comfort and efficiency.
Quiet Operation: Designed in ClimateMaster's own certified sound lab, the Tranquility series guarantees noise-free operation, with its features like double compressor isolation system and acoustically lined cabinet.
Automatic Dehumidification: With its dehumidification feature, this heat pump can adjust automatically in order to prevent over heating or over cooling, thereby assuring maximum comfort.
Environment Friendly: One of the key features of this system is that it is incorporated with EarthPure refrigerant whose specialty is that it is chlorine free and ozone safe.
Superb Air Filtration System: In contrast to convention heat pumps that include fiberglass air filters, ClimateMaster Tranquility heat pumps, with its advanced filtration system, can capture almost 100% dust and debris thus allowing you to breathe clean, fresh air.
Excellent Warranty Options: All of its units are covered by a 10-year limited warranty. Further, the ClimateMaster's underground pipes provide a 50-year limited warranty.
To check availability, call us at 1-800-360-1569 or visit our online store.