Standard Efficiency Trane Heat Pump Reviews
To check availability, call us at 1-800-360-1569 or visit our online store.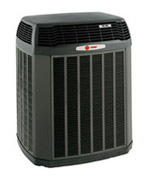 If you're looking to upgrade your old air conditioner and furnace to something more fuel efficient that will save you money, then a heat pump is probably a good choice. Heat pumps heat and cool more efficiently than traditional systems and that equates into a lower energy bill with more money in your pocket.
Trane has many different heat pumps on the market with various options and extras. The most basic Trane heat pump offerings are the 'Standard Efficiency' units, the XB14 and XB13. Both meet standard US Department of Energy residential requirements and may even qualify for energy tax credits. If price is definitely an obstacle, then one of the standard efficiency models may be the right pick. We'll discuss both models in broad terms, but it would also be a good idea to read specific heat pump reviews for these and other units.
The XB14 and XB13 Trane heat pumps share many components. Both use DuraTuff Compressors, baked-on powder paint, the all-aluminium Spine Fin outdoor coil, and DuraTuff base pan. They also feature identical warranty protection with a 10-Year Limited Warranty on the compressor and a 5-Year Limited Warranty on the coil and internal functional parts.
Despite their similarities, there are some differences. The XB14 is equipped with galvanized-steel louvered panels and is slightly more efficient overall. The XB14 can achieve a 15.00 SEER and 8.5 HSPF while the XB13 gets, at best, only a 14.50 SEER. The XB14 is more energy-efficient, but only slightly so.
Given the only very slight difference in energy efficiency between the two, 15 SEER and 14.5 SEER respectively, there is no real appreciable difference between the XB14 and XB13 Trane heat pumps. As such, the best pick would be whichever model can be found at the best price. Local dealers should list unit prices alongside their own heat pump reviews, which is not a bad place to start looking.
So, in short, when it comes to the Trane Standard Efficiency models, buy the one at the best price and it will work fine.
To check availability, call us at 1-800-360-1569 or visit our online store.