Rheem RQPL 14 SEER Packaged Heat Pump
To check availability, call us at 1-800-360-1569 or visit our online store.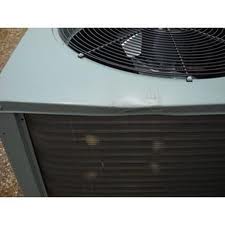 Experts rarely seem to agree on anything, but these days almost all of them are saying that fossil fuel energy expenses will continue to rise with the foreseeable future. Of course, this is not guaranteed, but with the dramatic and rapid industrialization alongside growing consumer demands in countries like India and China it seems difficult to see how energy costs would not continue their upward climb. Luckily, there are new technologies being produced everyday at home and abroad designed to make the most out of the energy we are already producing.
Energy efficient packaged heat pumps like the Rheem RQPL 14 SEER can help you cope with a skyrocketing electric bill. In some areas of the country, energy costs can double or triple during extreme summer heat or harsh winter cold. A packaged heat pump can help offset those costs by providing heating and cooling at a more energy efficient level than traditional air comfort systems. A unit like the RQPL 14 SEER will allow you to save money where and when you can throughout the year while also keeping you cool or warm as the weather fluctuates.
Rheem has outfitted the RQPL 14 SEER packaged heat pump with all the tools it needs to do the job. The unit has a scroll compressor for maximum energy efficiency, copper tubes and aluminium fin coils, a sturdy cabinet with a powder-paint finish, louvered exterior coil guard, "up front" operational controls, a matched blower, and solid warranty protection on the compressor and parts. All that will equate to less energy needed to cool and heat your house how you want it, reduce your carbon footprint, while also letting you put a little cash back in your wallet.
To check availability, call us at 1-800-360-1569 or visit our online store.