Rheem RJPL 14 SEER Packaged Heat Pump
To check availability, call us at 1-800-360-1569 or visit our online store.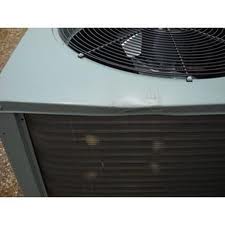 When you are looking to make a purchase for your business you are not interested in spending a lot of wasted money on a system that is not going to pay off in the long run. Applying this philosophy to the heating, ventilation and air conditioner industry, it does not make sense to spend hard capitol on an air comfort unit that is only going to bleed cash from your business every month. Instead, you can upgrade your HVAC system with a packaged heat pump, cut your electric bill and get back into the financial black.
There are many packaged heat pumps on the market and Rheem Manufacturing offers a number of models like the RJPL 14 SEER. The RJPL packaged heat pump provides year-round heating and cooling, whatever your seasonal requirements are. It uses a single-stage scroll compressor, interior/exterior copper tube/aluminium fin coils and ozone-friendly refrigerant to reduce your overall energy consumption, do no damage to the environment and save your business money. The RJPL packaged heat pump can achieve up to a 14 SEER rating which translates directly into less energy you have to use every day to keep a comfortable working environment.
Rheem also builds their packaged heat pumps to last. The RJPL 14 SEER is covered with a powder-paint finish to protect the cabinet from rust while the copper construction of the coil tubes prevents damaging corrosion. Meanwhile, a louvered coil guard keeps out unwanted contaminants and detritus. Then, if something does go wrong despite the precautions, the unit is covered by a 10-Year Limited Warranty on the compressor and a 10-Year Conditional Parts Warranty on everything else, which should cover any unforeseen circumstances.
Saving money on your business's heating and cooling needs reduces your overhead and helps your to better manage your finances. The only question you should have is why you haven't already upgraded to a packaged heat pump like the RJPL.
To check availability, call us at 1-800-360-1569 or visit our online store.