Rheem Gas Furnace Review
To check availability, call us at 1-800-360-1569 or visit our online store.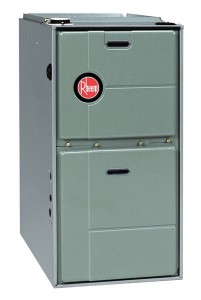 In the 1920′s, the Rheem brothers bought a defunct galvanizing steel plant in Southern California and began producing hot water heaters. By 1936, they were selling their units on both coasts. Today, the Rheem Manufacturing Company is a major player in the heating, ventilation and air conditioner market. It maintains its corporate headquarters in Atlanta, Georgia, but retains manufacturing and distribution facilities for its varied products across the United States and around the world. Rheem offer products for every aspect of residential heating, ventilation and air conditioning that includes hot water heaters, tankless water heaters, solar water heating systems, hydronic and geothermal systems, indoor air quality accessories and more.
As far as gas furnaces go, Rheem has an extensive line of quality products that can fit most residential and commercial needs. They field a variety of units available at different AFUE efficiencies, BTU production, installation application and more. Whatever the consumer requires when it comes to gas furnaces, Rheem is sure to have a product that can do the job.
- The Rheem RGPT05E is a typical example of Rheem's quality manufacturing processes when it comes to gas furnaces. This particular model achieves an 80% AFUE and can produce up to 50k BTUs per hour. It uses a very quiet heat exchanger, is only 34" tall, and priced by Ingram's Water & Air at only $1499.
- The RGPT07E is similar to the 05E, but instead of 50k BTUs can produce 75k and is priced at $1535. The BRQR variant is also available with a slightly different system for $1571.
- The RGPT10E is designed for those with serious heating requirements. It achieves 80% AFUE and produces a hearty 100k BTUs. It is still reasonably priced for its performance at $1599.
- The most potent gas furnace Rheem offers is the RGPT12E that produces 125k BTUs at 80% AFUE and for only $1622. If you need a lot of heating in winter, then the RGPT12E is the gas furnace you want.
To check availability, call us at 1-800-360-1569 or visit our online store.