Overview of Rheem Packaged Dual Fuel Systems
To check availability, call us at 1-800-360-1569 or visit our online store.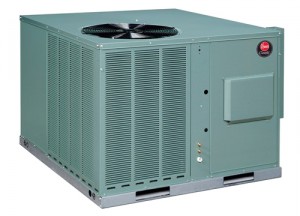 The Rheem brand is a byword for quality and performance when it comes to residential and industrial heating and cooling. They've built their reputation over decades of successful products coupled with quality customer service. They've brought those same values to the manufacture of packaged dual fuel systems.
Rheem builds packaged dual fuel systems to put together the savings an energy efficient heat pump can provide with the heating performance of a traditional gas furnace. This allows customers that live in cold weather regions to improve their energy savings without being forced to sacrifice air comfort. Rheem offers a couple of different models to meet varying consumer demands. Rheem packaged dual fuel systems are available in 2, 2.5, 3, 3.5 and 4 ton packages while also being able to provide 60k, 80k or 100k BTUs of power. That means you can find the machine you need to cover your home, small business or warehouse.
Every Rheem packaged dual fuel system also counts some of the best warranty protection available in the industry as a standard part of the sale. The most basic coverage is the 1 Year Parts Warranty. If something goes wrong right out of the gate, Rheem has your back. It doesn't stop there. Rheem also grants an additional 10 Year Conditional Parts Warranty and another 5 Year Limited Parts Warranty. For the compressor alone they give you a 10 Year Limited Warranty. That level of commitment is hard to find elsewhere which Rheem is confident will make them stand out above the rest.
To check availability, call us at 1-800-360-1569 or visit our online store.