Overview of HVAC Direct Packaged Heat Pumps
To check availability, call us at 1-800-360-1569 or visit our online store.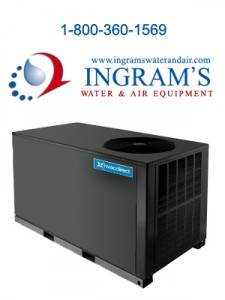 HVAC Direct is a force to be reckoned with in the competitive heat pump market. They bring a lot of high quality products directly to the consumer and their line of packaged heat pumps form an important part of their growing industry edge. Like all HVAC Direct products, their packaged heat pumps are well made, energy efficient and environmentally friendly while also sold standard with the kind of warranty protection consumers have come to expect.
Regardless of tonnage or productivity, all HVAC Direct packaged heat pumps come equipped with an energy efficient compressor and internal relief valve. The blower motor is also always built to exacting specifications and, for protection against the elements, the cabinet is constructed of heavy gauge, galvanized steel while the condenser coil features a louvered guard. These packaged heat pumps are also factory charged with R-410A refrigerant, a non-ozone depleting and chlorine free hydrofluorocarbon gas.
Typically, HVAC Direct packaged heat pumps perform between 13 and 15 SEER, so any model is guaranteed to provide good energy efficiency and, depending on various factors, can deliver real energy savings. HVAC Direct also provides a 10 Year Warranty on various parts as a minimum. Overall, HVAC Direct packaged heat pumps are a solid combination of high quality components working in unison to give consumers what an increasingly energy and environmentally conscious population wants. They are also a product line that buyers interested in a new HVAC system for their home or small business should take a serious look at.
To check availability, call us at 1-800-360-1569 or visit our online store.