Overview of Amana's Packaged Heat Pumps
To check availability, call us at 1-800-360-1569 or visit our online store.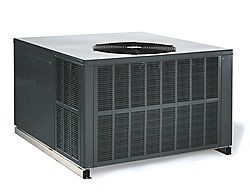 Amana manufactures a couple of different packaged heat pumps for residential and commercial sale. Like all packaged heat pumps, the Amana units are intended to provide quality heating during winter and cooling during summer while reducing energy consumption and saving the homeowner or small business owner money. Packaged heat pumps are a real alternative to a traditional air conditioner and gas furnace and a technology that Amana stands behind.
Amana's Packaged Heat Pumps are mostly 15 SEER models and range between 24,000 and 55,000 BTU in power. They are also include heat kits ranging between 5 and 10 kW. While the power capacity varies, most of the packaged units share the same basic components. They are all fitted with an energy efficient compressor with an internal relief valve, utilize R-410A chlorine free refrigerant that won't deplete the ozone layer, an ECM blower motor, a liquid-line filter drier and are protected by a heavy gauge galvanized steel cabinet. The 4 and 5 ton packaged units feature two-stage heating and cooling.
Overall, Amana produces reliable packaged heat pumps that can do the job most people need them to do. They are well made and designed to resist years of wear and tear. Probably the best thing about the Amana packaged heat pumps is the warranty coverage. Amana provides a Lifetime Limited Warranty on the compressor and a 10 Year Limited Warranty on the parts. Combine that with Energy Star qualification and that can equal real value no matter which packaged heat pump you choose.
To check availability, call us at 1-800-360-1569 or visit our online store.