Maximizing Geothermal Incentives: Maine
To check availability, call us at 1-800-360-1569 or visit our online store.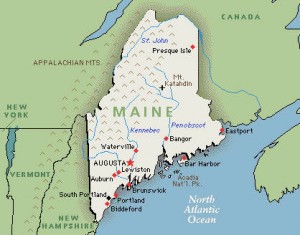 Maine is known for great lobster and cold winters, but a geothermal heat pump can only help you with one of those. Of course, we're talking about the winters! A geothermal heat pump installed in your home can handle all your summer cooling needs, then reverse cycle to provide ample heating during cold weather conditions. Thanks to stable subsurface temperatures and greater than 100% operating efficiency, geothermal heat pumps will also save you money while doing so. They're fantastic HVAC systems for any home and, thanks to a number of Maine incentives, are more affordable than ever.
One of the main benefits a Maine homeowner can claim on their geothermal heat pump installation is a Federal Renewable Energy Tax Credit. As part of the American Recovery and Reinvestment Act of 2009, this provision allows American homeowners to claim a 30% tax credit on the purchase and installation cost of qualified renewable energy systems. Geothermal heat pumps may claim this credit and unused credits can be carried over to additional taxable years.
Maine homeowners who need financing for a geothermal heat pump purchase may also receive it through the Property Assessed Clean Energy program (PACE). PACE is a Federal program that works through local resources to provide funding for energy efficiency improvements. A number of local municipal governments in Maine have PACE programs.
For more information on the Federal Renewable Energy Tax Credit or PACE financing, visit the Ingram's Water & Air State Incentives web site.
To check availability, call us at 1-800-360-1569 or visit our online store.