Maximizing Geothermal Incentives: Idaho
To check availability, call us at 1-800-360-1569 or visit our online store.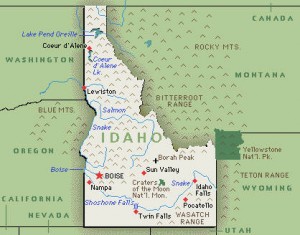 The potato isn't the only thing Idaho has going for it. Thanks to a variety of Federal, state and local incentives, Idaho homeowners can also save a lot of money when they invest in a geothermal heat pump system. Geothermal heat pumps work as well or better than traditional HVAC systems, but they do some things an air conditioner and furnace can't. A geothermal heat pump operates at over 100% efficiency, reduces emissions, and typically saves the homeowner money on their energy bill. And, as previously mentioned, Idaho homeowners who invest in geothermal heat pump systems can get lots of money back.
One major way Idaho residents save on their geothermal heat pump purchase is through the Residential Alternative Energy Tax Deduction and the Federal Renewable Energy Tax Credit. These tax incentives allow a homeowner to apply some of the purchase and installation cost of their system to their state and Federal taxes. In some cases, those tax credits may even be carried over to subsequent taxable years if unused.
Idaho residents who need help affording a geothermal heat pump may be eligible for financing through the Utah Low-Interest Energy Loan Program. The purpose of the program is to allow more state citizens to upgrade their home HVAC systems. Meanwhile, other Idaho residents may be eligible for local utility loan and rebate programs. For example, Idaho Falls Power has an Energy Loan Program and a Commercial & Residential Energy Efficiency Rebate program.
For more information on Utah loan or rebate programs, visit the Ingram's Water & Air State Incentives web site.
To check availability, call us at 1-800-360-1569 or visit our online store.