Key Benefits of Geothermal Heat Pumps
To check availability, call us at 1-800-360-1569 or visit our online store.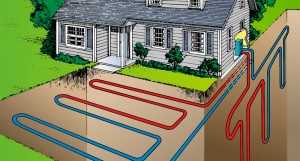 Geothermal heat pumps, otherwise known as ground source heat pumps, are perhaps the most efficient and cost effective among the heating and cooling systems now available in the market. Unlike conventional heat pumps, a geothermal heat pump utilizes the earth's constant temperature to heat or cool the indoors. A variety of benefits could be enjoyed as a result of the installation of a heat pump.
Efficient
Since geothermal heat pumps can absorb more heat energy, it is three to six times more efficient than a conventional heating system. Further, it uses very less electricity when compared to other types of heating systems.
Reliable and Safe
As the functioning of a geothermal heat pump requires few components, it is highly reliable. In contrast to an air source heat pump, a geothermal heat pump requires less maintenance. Another great thing regarding geothermal systems is that it does not have an outdoor unit. Hence, don't have to worry about the wear and tear of an outdoor unit.  There is also no risk of fire.
Environmental Friendly
A geothermal heat pump uses renewable source energy for heating as well as cooling purposes; therefore, its functioning does not involve any pollution or dangerous emissions in the form of carbon monoxide. It is eco friendly and does not cause any depletion to the earth's ozone layer.
Flexible and Convenient
Geothermal heating systems are highly flexible and are suitable for new as well as retrofit purposes. Additionally, it requires very limited space for its installation. Above all, geothermal heat pumps promote a quieter performance.
To check availability, call us at 1-800-360-1569 or visit our online store.