HVAC3951 15 SEER Packaged Heat Pump
To check availability, call us at 1-800-360-1569 or visit our online store.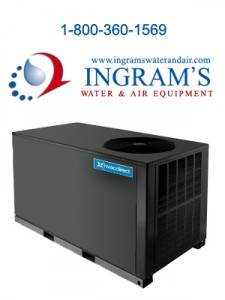 The HVAC3951 15 SEER Packaged Heat Pump is an energy efficient heating, ventilating and air conditioning machine that can reduce your overall energy costs while at the same time giving you the air comfort you want. Packaged heat pumps like the HVAC3951 cool using the same principles of refrigeration as an air conditioner. What makes a heat pump different is the reverse cycle through which the same machine also provides heating during cooler temperatures. That combined with their superior power management make packaged heat pumps a superior choice to the traditional air conditioner and gas furnace combination.
Exactingly engineered components are what allow the HVAC3951 to do the job it does. It uses an energy efficient compressor to maximize the use of R-410A refrigerant gas coursing through its coils. The coils themselves are designed to maximize heat transfer and made from copper which offers better protection against corrosion than traditional aluminium coils. That helps insure long term operation of the heat pump and so does the heavy gauge, galvanized steel cabinet protecting the exterior unit. The condenser coil also comes with its own louvered guard to allow air to flow over the coils, but keep out potentially damaging debris.
HVAC Direct is so confident in the performance of this system that they feel comfortable sealing the deal with a 10-Year Limited Warranty on all functional parts for every packaged heat pump they sell. A decade of coverage is a long time, which means this heat pump is likely to last for years longer. Over time that can all add up to substantial savings.
To check availability, call us at 1-800-360-1569 or visit our online store.