HVAC3950 15 SEER Packaged Heat Pump
To check availability, call us at 1-800-360-1569 or visit our online store.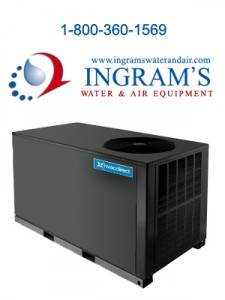 Packaged heat pumps provide everything you need to deal with uncomfortable seasonal weather. A heat pump works like an air conditioner to combat summer heat, but by means of a reverse cycle may also produce warm air when conditions turn colder. This flexibility allows you to get all the air comfort you need from a single unit while at the same time taking advantage of a heat pump's superior energy efficiency compared to traditional HVAC methods.
HVAC Direct carries a number of packaged heat pumps in their inventory and the HVAC3950 15 SEER is one of their most energy efficient models. This packaged heat pump uses a two-stage cycle and an ultra efficient compressor in order to routinely achieve 15 SEER performance. SEER is the industry measure of seasonal energy efficiency. A 15 rating is above the current U.S. legal standard, better than many other HVAC units, and very likely to reduce your energy spending over the long term. That shrinking carbon footprint combined with R-410A refrigerant gas also make this packaged heat pump a greener choice. R-410A is a hydrofluorocarbon gas specifically engineered to be non-ozone depleting and chlorine free; it's safe for the environment and your family.
HVAC Direct has also built this packaged heat pump for long term operation. The exterior cabinet that protects the critical components is made of heavy-gauge, galvanized steel and the condenser coil sports a louvered guard to ward off damaging debris. The best protection provided, however, is not a physical component at all, but rather the excellent warranty. The HVAC3950 comes standard with a 10-Year Warranty on the compressor and parts. That means you not only get to enjoy great air comfort and energy efficiency, but you can do so with peace of mind.
To check availability, call us at 1-800-360-1569 or visit our online store.