HVAC3948 15 SEER Packaged Heat Pump
To check availability, call us at 1-800-360-1569 or visit our online store.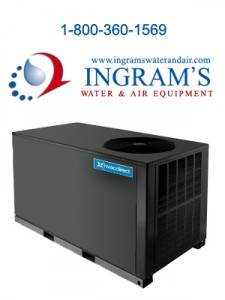 Going green these days is kind of a big deal. Lots of folks are getting very environmentally conscious and insisting the products they buy do the same. Businesses all over the country are rising to meet the challenge, but it's not a topic energy efficient heat pump manufacturers have to worry about. Their HVAC systems were green options way before it was popular. Now that the public is getting in on the act, energy efficient heat pumps are poised to get the kind of respect they've always deserved.
HVAC Direct believes heavily in energy efficient heat pumps and the HVAC3948 15 SEER is a fine example of the company's packaged heat pump offerings. The HVAC3948 is an ideal buy for someone looking to clean up their home's carbon footprint. This packaged heat pump has almost no emissions and is an excellent energy manager. It will require less power to do the same job as an older system and that is proved by the ultra efficient compressor at its heart. That compressor shifts heat around the environment to provide cooling in summer and even heating in winter.
HVAC Direct also goes one step further by factory charging the HVAC3948 with R-410A refrigerant. R-410A is a hydrofluorocarbon gas specifically designed by chemists to have no damaging impact on the ozone layer. That makes it good for the environment and the fact that it is chlorine free makes it safe for your family too. It's excellent ability to shift heat just means it's perfect for its job. R-410A is also one of the things that will let you enjoy the same kind of heating and cooling you always have while you get to tell your neighbors how green you've gone.
To check availability, call us at 1-800-360-1569 or visit our online store.