HVAC3947 14 SEER Packaged Heat Pump
To check availability, call us at 1-800-360-1569 or visit our online store.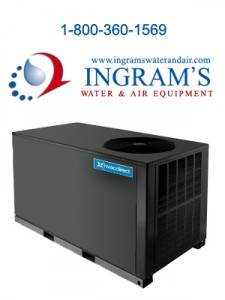 Energy efficient heat pumps are among the most modern heating, ventilation and air conditioner technologies that can provide real air comfort for your home while also saving you money on your seasonal energy bill. Heat pumps function like a regular air conditioner, but may also reverse cycle to generate heat during cool weather. That allows you to simplify your home set up and take advantage of the energy efficiency of heat pumps no matter what time of year it is.
The HVAC3947 14 SEER Packaged Heat Pump is a solid example of what heat pumps are capable of. The HVAC3947 uses an ultra efficient compressor and internal release valve in order to give consumers excellent performance over the long term. That performance routinely reaches 14 SEER, a mark above the current legal requirement for new residential energy efficiency and a solid benchmark when it comes to saving money. This packaged heat pump will also be able to give you the air comfort you want thanks to the excellent and environmentally safe R-410A refrigerant coursing through the coils. R-410A is a hydrofluorocarbon gas that won't hurt nature and is also chlorine free so it won't hurt your family.
Of course, that's not the end of this heat pump package. HVAC Direct will also seal your investment with a 10-Year Limited Warranty on all functional parts. That will grant you peace of mind for the next decade and let you worry about more important things. Contact a certified HVAC Direct dealer today to see just how much you could save.
To check availability, call us at 1-800-360-1569 or visit our online store.