HVAC3943 14 SEER Packaged Heat Pump
To check availability, call us at 1-800-360-1569 or visit our online store.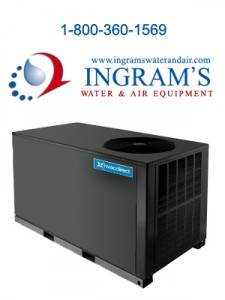 There's a lot to like about energy efficient heat pumps. These fine machines work like an air conditioner during summer to provide cooling, then reverse cycle as the temperature drops to keep your house warm. Heat pumps are also excellent ways to conserve energy and many owners see a real drop in their monthly electric bill when they make the switch from an outdated system to a new energy efficient heat pump. As energy prices continue to rise an HVAC option like a heat pump might be one of the best things you can do to keep your seasonal expenses low.
HVAC Direct sells a lot of energy efficient heat pumps and the HVAC3943 14 SEER is one of their packaged models. The HVAC3943 uses an energy efficient compressor in order to make the most out of the R-410A refrigerant coursing through the coils. This combination delivers great air comfort while also shrinking your carbon footprint and keeping your home eco-friendly. R-410A refrigerant in particular is a great choice. This hydrofluorocarbon gas is specifically designed to be non-ozone depleting and it is also chlorine free. That makes it an even safer option than the refrigerants of decades past.
In addition to simplifying your heating and cooling life, the HVAC3943 Packaged Heat Pump will also keep your regular expenses low. Current heat pump technology is at a state where the industry can produce reliable parts that get great performance. If something does go wrong, you can fall back on the sturdy support that HVAC Direct's 10-Year Limited Warranty on all functional parts give you. A decade of protection is a value you can't find everywhere. As you can see, investing in an energy efficient heat pump isn't just a smart choice, it might just be the smartest you make for years.
To check availability, call us at 1-800-360-1569 or visit our online store.