HVAC3942 14 SEER Packaged Heat Pump
To check availability, call us at 1-800-360-1569 or visit our online store.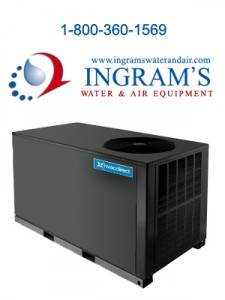 If you are browsing this, then you are probably in the market for a new home heating, ventilation and air conditioner system. Maybe your air conditioner broke down or you are just tired of paying exorbitant costs every winter to keep your house heated. If so, then you should look into getting an air source heat pump for your home heating and cooling needs. Heat pumps can cool your home in summer and then by means of reverse cycle operation provide great heat when it gets warm outside. Meanwhile, they are also more energy efficient than a lot of traditional models.
HVAC Direct's HVAC3942 14 SEER Packaged Heat Pump is a great example of the kind of excellence you can expect from air source heat pumps. This packaged unit is equipped with an energy efficient compressor and internal relief valve, factory charged with chlorine free R-410A non-ozone depleting refrigerant, an EEM blower motor, a cabinet made of galvanized steel, and a louvered guard for the exterior condenser coil. Those components function as one to provide you with up to 14 SEER performance, an energy efficiency rating ahead of current Federal standards and one most likely better than whatever you are currently getting with your old system.
Most energy efficient heat pumps are so reliable that many sellers are quite comfortable attaching solid warranty protection. The HVAC3942 14 SEER is no different. This packaged heat pump comes standard with a 10-Year Limited Warranty on all functional parts. That gives you plenty of protection should something go wrong in the next decade. So, think about getting a heat pump for your home. Do a little more homework and see if you aren't convinced by the solid combination of energy efficient, performance and protection these excellent machines can provide.
To check availability, call us at 1-800-360-1569 or visit our online store.