HVAC3687 13 SEER Packaged Heat Pump
To check availability, call us at 1-800-360-1569 or visit our online store.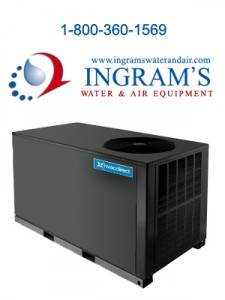 In almost every form, energy is not getting any cheaper. Chances are good that as current trends continue it will become more and more expensive to heat and cool your home no matter how low your current monthly expenses might be right now. The best way to head off future price increases is to invest in energy conserving technology. Recent Congressional legislation promotes such investment and you can get in on the act yourself with an energy efficient heat pump from such industry leaders as HVAC Direct.
An air-source heat pump like the HVAC3687 may be exactly the kind of machine to keep your bills low for years to come. Packaged heat pumps are designed to provide heating in winter and cooling in summer and maximize energy usage no matter what the season. The HVAC3687 gets 13 SEER performance which puts it in line with the current legal requirement and way out ahead of traditional air conditioners when it comes to seasonal cooling performance. And while it's true that energy efficient heat pumps lose their competitive edge as the temperature drops, HVAC Direct has equipped this packaged heat pump with electric heat strips that will come on line when such events come about.
HVAC Direct also wants you to be using this energy efficient heat pump for years to come. The exterior cabinet is crafted from heavy gauge, galvanized steel and the condenser coil is protected by a louvered guard. That will ward off inclement weather and debris that might otherwise damage the fragile internal components. Meanwhile, you are protected against out-of-pocket expenses by an excellent 10-Year Limited Warranty on all functional parts.
To check availability, call us at 1-800-360-1569 or visit our online store.