HVAC3685 13 SEER Packaged Heat Pump
To check availability, call us at 1-800-360-1569 or visit our online store.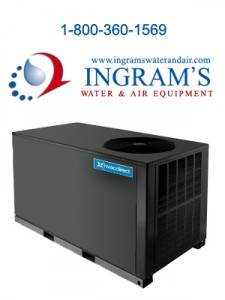 Lots of folks want to save money on their power bill these days and lots of folks are investigating energy efficient heat pumps to do just that. An energy efficient heat pump can provide your home with year round heating and cooling while also being a better power manager than a traditional air conditioner and gas furnace combination. That can result in less energy being used to give you the air comfort you want, which saves you money without sacrificing lifestyle. That sort of performance makes energy efficient heat pumps a real choice for serious homeowners.
HVAC Direct sells its products directly to consumers and is convinced their HVAC3685 Packaged Heat Pump will prove itself a real contender on the open market. This packaged heat pump utilizes an energy efficient compressor and internal relief valve to get the kind of energy savings traditional systems just can't. Properly installed, the HVAC3685 routinely reaches 13 SEER performance, an industry measure of energy efficiency in line with the very latest U.S. government standards and a cut above the HVAC systems of the past. That rating allows consumers to get real energy savings in addition to solid heating and cooling.
Of course, HVAC Direct didn't design this packaged heat pump just to perform. They also want to sell a unit that will stand the test of time. That's why they protect the internal components with heavy gauge, galvanized steel and wrap the condenser coil in a louvered guard to ward off damaging debris. That isn't the best protection though. The best protection that HVAC Direct will give you is a 10-Year Limited Warranty on all functional parts. That means they put their money where their mouth is, so you can put yours in your pocket while enjoying all the air comfort modern technology can deliver.
To check availability, call us at 1-800-360-1569 or visit our online store.