HVAC1412 15 SEER Packaged Heat Pump
To check availability, call us at 1-800-360-1569 or visit our online store.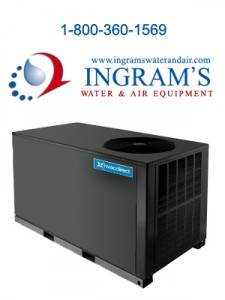 The HVAC1412 15 SEER is one of HVAC Direct's best packaged heat pump and a flexible air comfort solution able to provide seasonal heating and cooling. The unit does that by way of the reversing valve that allows it to switch between production of warm or cold air. This capability combined with real energy efficiency makes the HVAC1412 one of the top units on the market and a solid long-term investment for interested homeowners.
The HVAC1412 gets such great performance by way of its two-stage compressor, a design that delivers unparalleled energy efficiency and also increases the operating life of this critical component. The advantage of this technology is reflected in the packaged heat pump's 15 SEER performance. This industry measure is used to set federal standards and judge power consumption during operation. The HVAC1412's 15 SEER is a high mark and a step above what is currently legally required as well as being superior to many traditional systems. That equals less power required to get the air comfort you want and saved dollars year over year.
As a better-than-average system it is only proper that this packaged heat pump come with a better-than-average warranty. HVAC Direct is so confident in this unit that they offer their customers a 10 Year Warranty on the compressor, the most important component, and other functional parts. This means you get ten years of covered performance out of the HVAC1412. That's ten years of great air comfort and solid savings without having to worry about being hit with out of pocket expenses from an unexpected system breakdown. So, if you want the best out of your home HVAC system, then think seriously about letting this packaged heat pump do the job.
To check availability, call us at 1-800-360-1569 or visit our online store.