HVAC Direct Gas Furnace Review
To check availability, call us at 1-800-360-1569 or visit our online store.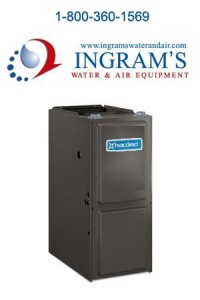 It may be a young company, but HVAC Direct has rapidly become one of the most recognized brands of heating and air conditioner equipment. They pride themselves on being recognized for quality and performance, as well as economic pricing options to make as many of their products as possible affordable to the average consumer. As market pressures have only grown over the past decades, HVAC Direct believes the best way to insure they stay competitive is to continue manufacturing a superior brand of HVAC product. That, they are convinced, is the best way to be successful in a rapidly growing world market.
As far as gas furnaces are concerned, HVAC Direct offers four separate series arranged by efficiency. They produce an 80% AFUE and 92.1% AFUE lines as well as a 95% AFUE line divided between variable and non-variable speed models. Most models are available for either upflow or downflow installation applications and all HVAC Direct gas furnaces feature outstanding warranty coverage. Most models come with a Lifetime Limited Warranty on the heat exchanger, a 10 Year Unit Replacement Warranty standard and a 5 Year Limited Warranty on parts. That goes to show just how dependable HVAC Direct believe their gas furnaces to be.
Where pricing is concerned, HVAC Direct gas furnaces run the entire gamut of economic options in order to make the product available to as many different consumers as possible. A dependable 80% AFUE at 45k BTU gas furnace with one of the best warranties in the industry can be purchased through Ingram's Water & Air for only $772. Meanwhile, a 95% AFUE unit that produces 115k BTU and uses variable-speed costs only $1,539. That is excellent efficiency and lots of heating for a very reasonable price. Just additional proof that whatever your heating needs, HVAC Direct has a gas furnace that can do the job.
To check availability, call us at 1-800-360-1569 or visit our online store.