How much will a ground loop geothermal heat pump installation cost?
To check availability, call us at 1-800-360-1569 or visit our online store.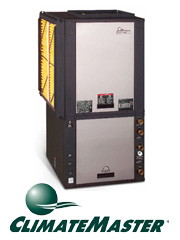 You probably are already aware that geothermal heat pumps consume less energy and provide the same level of air comfort as traditional heating and cooling systems. And, well, if you didn't, then you do now. What you might also know is that, unfortunately, geothermal heat pumps cost more to install. These installation costs can vary widely depending upon the type of geothermal heat pump being used, but all of them are more expensive than a traditional system. If you don't live near a large enough body of water for a lake or open loop system, then you are most likely going to install either a horizontal or vertical geothermal heat pump. Either system is going to save money on your electric bill, but there are some differences in cost and availability.
A closed loop horizontal geothermal heat pump works by burying a series of pipes at regular intervals over a wide area. It's called 'horizontal' because the pipes are buried relatively shallowly and stretch horizontally farther than they extend down vertically. It is usually the cheapest installation approach of the two, but has a larger space requirement. A homeowner has to have the available acreage to accommodate the pipe field. Looping the pipe can reduce the needed territory even further, but still a relatively large area is required.
A closed loop vertical geothermal heat pump, as you might guess, is so named, since the pipes extend deeper vertically than they do horizontally. This is ideal for businesses and homes in regions where space is at a premium and there is no available area to bury a horizontal field. Due to the depth that must be dug, a vertical installation may be more expensive, but it sometimes can be more efficient and require less pipe be sunk.
Whichever installation you go for the geothermal heat pump will probably cost two to five times more than a traditional heating and air system, but the overall savings are more than worth it. The average buyer will pay back their initial installation costs in five to ten years and since many geothermal heat pumps are rated to last decades the savings can really start to pile up no matter how your pipes are buried.
To check availability, call us at 1-800-360-1569 or visit our online store.