High Efficiency Trane Heat Pumps Reviews
To check availability, call us at 1-800-360-1569 or visit our online store.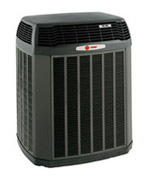 The Trane Company lists two of its heat pump models as 'high efficiency' units. These are the XR15 and the XR13 heat pumps. Trane's definition of high efficiency seems to be a SEER rating higher than the legal standard of 13 as the XR15 can reach 16.5 SEER and the XR13 a 14 SEER.
The SEER rating seems to be the only substantial distinction between the two models. Both the XR15 and XR13 Trane heat pumps come equipped standard with the ClimaTuff Compressor, galvanized-steel louvered panels, baked-on powder paint, corrosion-resistant Weatherguard fasteners, Spine Fin Outdoor Coil, DuraTuff rust-proof base pan, compressor sound insulator for quieter operation on select models.
Both Trane heat pumps also feature the exact same warranty protection. Trane offers a 10-Year Limited Warranty on the compressor, outdoor coil, and all internal functional parts that include the indoor gas furnace, coil, air handler and thermostat if installed.
Given the almost identical stamp between the XR15 and XR13, the consumer needs to decide which is more important to them: price or energy efficiency. The XR15 heat pump is the more energy efficient model coming in with a 16.5 SEER rating, but generally retails at a higher cost than the XR13. As mentioned before, the XR13 heat pump has a 14 SEER, but, of course, costs less than the XR15. Both are quality Trane heat pumps and many heat pumps reviews rate both highly.
So, the consumer's final choice should be based on specific factors like how much money they have to spend on a heat pump and the particulars of their local climate. Both the XR15 and XR13 heat pumps will provide adequate energy efficiency and the more mild the climate the greater the benefits from a higher efficiency model like the XR15. If the climate is more severe and a gas furnace will be required during winter months, overall efficiency is reduced and so saved money with the XR13 might be the right choice. Still, if money isn't a major factor, then the superior SEER of the XR15 makes it the better pick.
To check availability, call us at 1-800-360-1569 or visit our online store.