Heat Pump Prices
To check availability, call us at 1-800-360-1569 or visit our online store.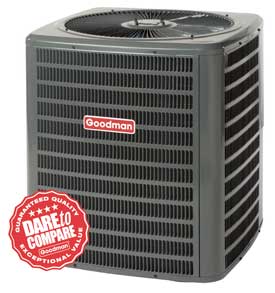 More people are choosing to use heat pumps as the source for heating and cooling for their homes, as it serves as an air conditioner during summer and as an excellent heating system during colder months of winter. Since its functioning involves the transfer of heat from one location to another rather than the generation of heat, a heat pump is relatively economic when compared to other types of heating systems. Its price, along with installation cost is pretty high. The good news is that it will help you to recover the cost in long run, through its efficient and economic functioning.
The price of a heat pump differs on the basis of its category and feature. For example, a geothermal heat pump is more expensive than an air source heat pump. Likewise, its price depends on factors such as SEER and HSPF. As such, the price of heat pumps with 17 to 18 SEER heat pumps will be higher. If you are looking for an economic choice, a 13 or 14 SEER heat pumps can best serve the purpose. The price may also vary depending upon the advanced features included in the heat pump you have chosen.
When it comes to installation cost, it largely depends on the size and type of the building. It may typically cost $500 -$1,500 for the installation of a small window unit air-source heat pump for heating and cooling a single room. However, it will be raised to $2,000 -$5,000 for installing a split system air-source heat pump for the heating and cooling purpose an entire house with existing ductwork. This will be further increased to $4,500 -$6,000 in order to fix a ductless mini-split electric air-source heat pump.
In the case of dual source heat pumps, it may cost anywhere ranging between $2,500 and $5,500 or more. Despite being an efficient source, a geothermal heat pump's installation cost is apparently high, ie, its complete installation may set you back $10,000 -$25,000 or even higher based on several factors including depth as well as length of piping and soil conditions.
Majority of the manufacturers now provide discounts and rebates on heat pump systems. One of the best ways to get updated info on rebates will be to log on to websites like EnergyStar.gov.
To check availability, call us at 1-800-360-1569 or visit our online store.