Heat and Cool Your Home with Closed Loop Ground Source Heat Pumps
To check availability, call us at 1-800-360-1569 or visit our online store.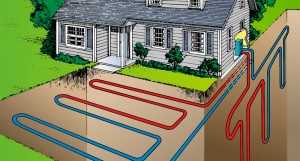 A ground source heat pump, alternatively called geothermal heat pump or geo-exchange heat pump, is perhaps the most efficient as well as cost effective among the different types of heating and cooling systems now available in the market. Its core specialty is that it utilizes the constant temperature beneath the surface of the earth to warm or cool your building's interior space. As a result, the usage of geothermal heat pump is both environmentally friendly and economic.
As the first step to use a ground source heat pump, you must place polyethylene piping filled with a liquid heat transfer agent to extract or expel heat. In other words, this polyethylene piping serves as a heat exchanger to reject heat into the ground during summer and absorbs heat from the ground during winter. The ground source heating systems include closed loop systems and open loop systems. Included in the closed loop systems are horizontal, vertical, and pond / lake. The horizontal looping system is suitable for residential purposes while vertical is recommended for large commercial buildings. In the case of open loop system, it is practical only where there is enough supply of water, such as a well.
According to the studies revealed by the Geo-Heat Center at the Oregon Institute of Technology, the demand for this type of heat pump is growing at a rate of 20% every year. Unlike conventional heating and cooling system that require the usage of combustion or harmful compounds like Freon for heating cooling purposes, a geothermal heat pump does not require any chemical or fuel for its functioning. The U.S. Energy Information Administration states that usage of a ground source heat pump will help to tremendously reduce the carbon emissions.
No matter if it is for a newly constructed building or to replace your existing heating system, a ground source heat pump serves as a perfect choice.
To check availability, call us at 1-800-360-1569 or visit our online store.