Goodman GPH1360M 13 SEER 5 Ton Packaged Heat Pump Multiposition
To check availability, call us at 1-800-360-1569 or visit our online store.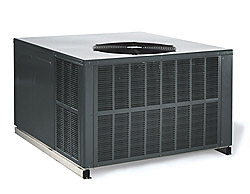 If you knew you could get a home heating and cooling system designed specifically for superior energy efficiency and a longer operating life without having to pay a lot more than money, then wouldn't you do it? Luckily, you can. Machines like the Goodman GPH1360 Packaged Heat Pump are exactly what you've been looking for. They combine the best features of energy efficiency, economic pricing, reliable parts and warranty protection of just about any HVAC system available.
How do they do it? The GPH1360M uses a two-stage heating and cooling system in order to maximize energy efficiency, but also lengthen the lifespan of the most critical internal components. Combine that with non-ozone depleting and chlorine free R-410A refrigerant and you have a packaged heat pump that gives you the heating and cooling you want without seriously damaging the environment. Meanwhile, Goodman's 10-Year Limited Parts Warranty means you get to enjoy the economic savings and peace of mind for the next decade.
And if you live in an area of the country that suffers under harsh winters, you can also get all those benefits without having to worry about the cold. Most heat pumps lose efficiency as the temperature drops, but a Goodman packaged heat pump is designed to accommodate an HKR Heat Strip. Featuring rust-resistant nickel chromium heat elements, these electric heat kits activate on the coldest winter days to keep you warm and your energy consumption moderate. So, no matter where you live you can get the kind of HVAC system you deserve from a Goodman packaged heat pump.
To check availability, call us at 1-800-360-1569 or visit our online store.