Goodman GPH1360H 13 SEER 5 Ton Packaged Heat Pump
To check availability, call us at 1-800-360-1569 or visit our online store.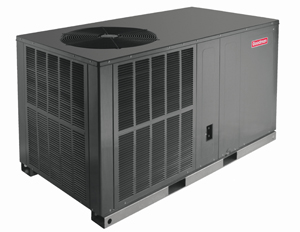 If you need heating and cooling for your home or small business, but don't want to spend a lot of money, then you should look into packaged heat pumps. These are all-in-one systems to provide for every air comfort need in any season, increase your overall energy efficiency and keep the initial purchase price reasonable. Those benefits can result in substantial financial savings over time, a real advantage for any business or household in the current economic environment.
Of all the packaged heat pumps you could buy, a Goodman GPH1360H is among the very best. These great machines routinely achieve 13 SEER performance, produce up to 5 tons of comfort, are available for ground-level or rooftop installation, and come standard with a 10-Year Limited Parts Warranty. Every single Goodman packaged heat pump also includes capability with an HKR Heat Strip for supplemental heating whenever the winter temperature drops sharply. That helps protect your energy efficiency and comfort if you live in an area of the country with particularly harsh seasonal weather.
With Goodman packaged heat pumps, you also know you're getting an American product that uses only the best parts available. The GPH1360H comes with an energy efficient compressor, internal relief valve, copper tube/aluminium fin coil, louvered condenser guard, permanently lubricated condenser fan motor, galvanized steel cabinet and is compatible with both R-22 and R-410A refrigerant. In short, a Goodman packaged heat pump like the GPH1360H is a total heating, ventilating and air conditioning system that can do whatever you need it to do without you having to spend a lot of money.
To check availability, call us at 1-800-360-1569 or visit our online store.