Goodman GPH1348M 13 SEER 4 Ton Packaged Heat Pump Multiposition
To check availability, call us at 1-800-360-1569 or visit our online store.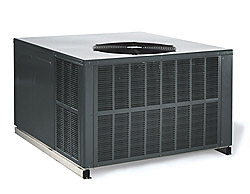 If you need up to 4 tons of heating and cooling power, then you should think about investing in a Goodman GPH1348M Packaged Heat Pump. Energy efficient heat pumps like this one are capable of producing cool air during summer and warm air in winter, which gives you real flexibility when it comes to residential air comfort. You also get a reduced seasonal power bill, since heat pumps are great energy managers and Goodman builds their packaged heat pumps to maximize system compatibility.
A Goodman packaged heat pump like this one achieves its solid 13 SEER performance by way of an advanced compressor design far superior to traditional reciprocating compressors. This allows better use of the R-410A refrigerant for heat conduction through the copper tube/aluminium fin coil. And since you can use R-410A with this machine, you don't have to work about damaging the ozone layer. R-410A is a chlorine free gas designed as a response to all the harm CFCs did to the planet in the mid-20th century.
Of course, you might be concerned about heating, since you may have heard energy efficient heat pumps can lose effectiveness on the very coldest winter days. That's true and an unfortunate side-effect of physics. However, Goodman packaged heat pumps are specifically designed to circumvent this issue. Every Goodman packaged heat pump comes standard with an HKR Heat Strip. These electric heat kits only activate when necessary to minimize the power you need, but are always ready to keep your home warm no matter what the weather gets like outside.
To check availability, call us at 1-800-360-1569 or visit our online store.