Goodman GPH1348H Packaged Heat Pump
To check availability, call us at 1-800-360-1569 or visit our online store.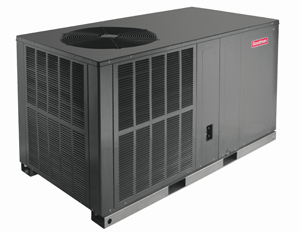 Goodman packaged heat pumps are one of the best values available on the market today. They are reliable, energy efficient and provide excellent air comfort. The GPH1348H 4 Ton is a good example of what they can do. The GPH1348H can be installed on a rooftop or at ground-level, whichever works best for the consumer. Meanwhile, it gets 13 SEER performance, an energy efficiency rating you can feel proud of.
Of course, since it's a Goodman packaged heat pump, you can be sure you're getting the best parts in the industry too. Every GPH1348H 4 Ton includes an energy efficient compressor and internal relief valve, louvered condenser guard, permanently lubricated condenser fan motor, cabinet made of galvanized steel, copper tube and aluminium fin coil, and also is compatible with R-410A refrigerant. R-410A is a particularly responsible choice, one of the best you can make for the environment, since it's a hydrofluorocarbon specifically engineered by chemists to be non-ozone depleting and still effective as a refrigerant.
With this packaged heat pump you also get excellent warranty protection. Goodman gives a 10-Year Limited Parts Warranty to make certain their customers get a solid decade of performance out of every Goodman packaged heat pump sold. That kind of warranty protection makes an already economically priced machine even more valuable, since you know you won't have arduous out-of-pocket expenses cropping up in the future. Mix that with the energy efficient and air comfort a Goodman packaged heat pump can provide and it's no mystery why this is one of the best bargains you can find.
To check availability, call us at 1-800-360-1569 or visit our online store.