Goodman GPC1360H41 Packaged Air Conditioner Review
To check availability, call us at 1-800-360-1569 or visit our online store.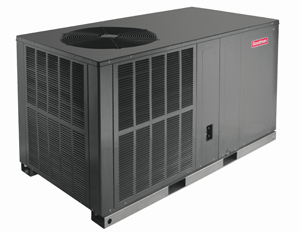 This air conditioner, included in Goodman's GPC package unit, has been designed to serve as an energy efficient cooling system. It is ideal for ground level and rooftop installations and is primarily recommended for residential and light commercial applications. With a SEER (Seasonal Energy Efficiency Ratio) rating of up to 13.0, it is energy efficient and qualifies for federal tax credits for energy efficiency. Further, its EER is 11.0.
The GPC1360H41 comes with horizontal configuration and has a nominal capacity of 5.0 ton. Since its cabinet features a heavy gauge cabinet profile complemented with UV-resistant powder-paint finish, it ensures the durability and longevity of your air conditioner. It also promotes for a noise-free operation, as its sound decibel is about 80.0. Due to its features such as chlorine-free, R-410A refrigerant unit, this air conditioner is highly environmental friendly and does not cause damage to the earth's ozone layer.
Backed by ten-year parts limited warranty on functional parts, the GPC1360H41's key features also include:
EEM blower motor
Copper tube / aluminum fin coil
Totally enclosed and permanently lubricated condenser fan motor
Fully insulated blower compartments with easy to access panels
Louvered condenser coil
Outdoor thermostat
Reversing valve coil
Blower interlock relay
Defrost control
In addition, this GPC cooling system is also inclusive of an electric heat kit. Above all, the GPC1360H41 air conditioner is certified by AHRI and listed on the ETL, with the added benefit that it is factory-evacuated, charged and performance tested.
To check availability, call us at 1-800-360-1569 or visit our online store.