Goodman Gas Furnace Review
To check availability, call us at 1-800-360-1569 or visit our online store.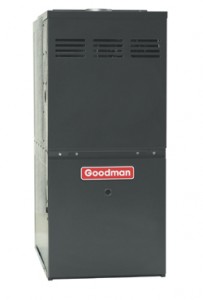 Begun in Houston in 1954, Goodman initially produced residential air conditioners to cool the warm homes of the American Southwest, but since then have expanded their business into most major areas of the heating, ventilation and air conditioner market. Today, Goodman Global is an important industry veteran and still very competitive even after more than fifty years of operation. They attribute their success to staying true to founder Harold Goodman's maxims: High quality at low cost equals value. Maintain low overhead. Create products that are engineered for reliable long life, utilizing the best components with some of the lowest failure rates in the industry. Offer some of the best limited warranties in the industry.
Goodman Global keeps close to their founding maxims when it comes to the production of their gas furnaces. In each of their lines they strive to keep a level of quality and dependability that few competitors can match. Ingram's Water & Air is proud to have a solid working relationship with Goodman Global and be able to offer the following gas furnaces at these competitive prices:
- The Goodman GCV90 models average 93% AFUE while being able to produce from 70,000 to 90,000 BTUs depending upon unit specifications. The GCV90s also come already compatible with ComfortNet Communications and a variable-speed circulator motor. Priced at $1397.00 or $1501.00, these gas furnaces bridge the gap between quality and cost effectiveness.
- Goodman also offers three different GMV950 units to its consumers. They each reach 95% AFUE, but vary on BTUS. The BXA produces 45k, the CXA 70k, and the DXA 90k. All are designed for upflow applications and are equipped for variable speed operation. They are priced at $1149, $1239, and $1429 respectively.
- The final Goodman gas furnace design in Ingram's inventory is the GMV951. It produces up to 115k BTUs at 95% AFUE efficiency and is reasonably priced at $1539. If you need powerful heating, then the GMV95 is the gas furnace you want.
To check availability, call us at 1-800-360-1569 or visit our online store.