Gas Furnace Overview
To check availability, call us at 1-800-360-1569 or visit our online store.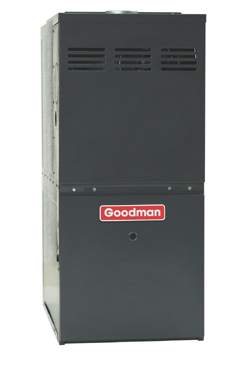 There are lots of different kinds of gas furnaces available on the market today available with a wide variety of options, variable fuel efficiencies, assorted components and prices. Making the right choice for your home heating needs may not be easy, but it can help to take a broad look at what is most commonly available. This article will do that and it might help you decide which gas furnace brand best fits your needs.
Goodman Gas Furnaces: Goodman is a well-respected HVAC company and offers a number of gas furnace models on the market. Most Goodman models achieve 93% or higher AFUEs and have solid warranty protection. Of course, they are also priced appropriately and the cheapest models are around $1100 USD.
Haier Gas Furnaces: Haier is a relatively recent entry into the gas furnace market and has two main lines, the HG80 and HG95. They get 80% and 95% AFUE respectively and come with solid warranties. Also, if you live in California, Haier's gas furnaces comply with California state NOX requirements.
Bryant Gas Furnaces: Another veteran of the HVAC industry, Bryant has a long tradition in gas furnace production. They have extensive gas furnace offerings divided into three lines: the Preferred, Legacy and Evolution. Within these three ranges, Bryant provides gas furnaces to fit just about any need. They are available in a variety of AFUEs, options, BTUs and prices.
Rheem: Rheem Manufacturing also offers many different kinds of gas furnaces. They have four basic series: the RGPT05E, the RGPT07E, the RGPT10E, and the RGPT12E. AFUEs are typically 80% and warranty coverage is solid. Rheem units can be pricey, however, with the cheapest unit around $1500 USD.
HVAC Direct: HVAC Direct is probably the youngest HVAC company to make this list and they have the distinct option of providing the most affordable gas furnace options. AFUE ranges between 80% and 95%, but price never goes above $1500 USD and some furnaces are available at around $750 USD.
Coleman: The same Coleman company known for its camping equipment also makes gas furnaces. Their gas furnaces get solid energy efficiencies, but can be rather pricey, with some reaching as high as $1900 USD. However, that cost is offset by significant quality in the manufacturing process and post-purchase warranty coverage.
Intertherm: Intertherm primarily manufactures HVAC systems for use in manufactured homes. This specialization may give them an edge when it comes to that particular niche system. Their models typically achieve 78% to 92% AFUE and are usually reasonably priced.
To check availability, call us at 1-800-360-1569 or visit our online store.