Echelon Series High Efficiency Gas Furnaces
To check availability, call us at 1-800-360-1569 or visit our online store.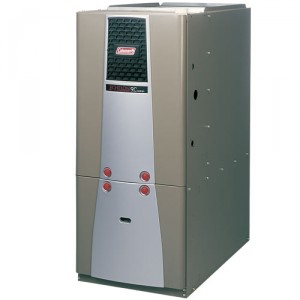 Coleman might not be as well known for their heating, ventilation and air conditioner equipment as they are for their camping gear, but they do produce a number of HVAC products as reliable and dependable as Coleman's other consumer goods. The Echelon Series High Efficiency Gas Furnace line is just one of Coleman's fine HVAC series and a real affordable investment for customers looking to replace a defunct furnace or just upgrade to something more modern and energy efficient.
Typically, the Echelon Series High Efficiency Gas Furnace performs better than most gas furnaces. The advanced design Coleman uses allows for Annual Fuel Utilization Efficiencies, a measure of how well a gas furnace burns its fuel, to reach between 80% and 95%. 80% is about the minimum you should ever accept on a gas furnace, but 95% is an exceptionally good rating. Further, Coleman advertises that the Echelon gas furnace is available with an option to fire the unit at 1% increments. Presumably, this would maintain home air comfort while maximizing fuel usage.
Coleman also touts the Echelon Series as being able to improve air quality through variable-speed circulation. Some Echelon gas furnaces also conform to Energy Star standards. That can be a valuable property, since installing a new Energy Star-certified HVAC unit in their home can net homeowners up to a 30% Tax Rebate. 95% AFUE gas furnace models also qualify for additional Federal tax credits which can further increase savings. Tax breaks combined with seasonal energy savings could make the Echelon Series a smart fiscal choice to keep your home warm during cold weather.
To check availability, call us at 1-800-360-1569 or visit our online store.