Comparative Carrier Heat Pumps Review
To check availability, call us at 1-800-360-1569 or visit our online store.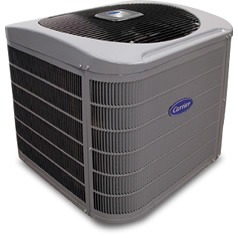 The Carrier Company has an extensive inventory of heat pumps to meet various consumer demands. It's always useful to read individual heat pump reviews before you buy to discern which unit is right for you, but it's also informative to understand the big picture of a brand's lineup.
SEER rating is the most important component of any heat pump and every Carrier heat pump line they are pushing has at least a 15 SEER. This is above the legal standard and more than some competitors achieve on basic tier units. The highest SEER rated Carrier heat pump is the Infinity Series. The Infinity Series can hit up to a 19 SEER rating, which is a top-of-the-line hit in the heat pump market. Most Carrier heat pumps, however, average around 16 SEER, which is a good median and representative of solid energy efficiency. For more specific information on SEER rating, check individual heat pump reviews.
Compressors are a good indicator of how efficiently a heat pump will work and are another major component in terms of quality. Most Carrier heat pumps use a scroll compressor to keep compression efficiency as high as possible. Like any technology, there are, of course, drawbacks, but scroll compressors have been shown to be more efficient that traditional reciprocating compressors in most cases. Carrier heat pumps use either a single-stage or double-stage scroll compressor and the latter is most effective in terms of cooling and heating, but is also, of course, more expensive.
There is little difference in Carrier heat pumps when it comes to warranties. All Carrier heat pumps come standard with a 10-Year Limited Warranty and Carrier seems to diverge not at all from this basic tenet. This is in contrast to some competitors who offer varied warranties depending upon the quality, or perhaps price, of their heat pumps on offer.
Overall, Carrier heat pumps utilize the same basic technologies and standards. They all have above average SEER rating, scroll compressors, and solid warranty protection. What varies between them are the extra options like single or two-stage compressors, better sound insulation, thermostat complexity, etc. So, figure out what criteria are most important for you, check some heat pump reviews, and then buy the unit that best fits your needs.
To check availability, call us at 1-800-360-1569 or visit our online store.