Carrier Performance Series Compact Air Conditioner
To check availability, call us at 1-800-360-1569 or visit our online store.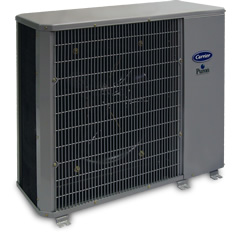 Statistically speaking, chances are good that you live in or near one of America's major urban areas. And even while those cities are sprawling outward, the population density is steadily increasing. In such conditions, space is a premium, but consumers still need efficient cooling for those hot summer months at reasonable prices.
Enter the Carrier Performance Series Compact Air Conditioner designed to provide efficient cooling in one easy to install package. Whether you are looking for supplemental cooling for part of your house, say the garage or an enclosed patio, or you need a new unit for your downtown apartment, Carrier's Compact can deliver the performance you want. Best of all, the Compact cools while maintaining up to a 15 SEER, a solid energy efficiency rating superior to that of outdated, conventional models. So, if you're still using an old air conditioner, upgrading to a Compact can save you money while giving you the same level of cooling you've come to expect.
As far as operational lifetime goes, the Compact is designed to be as durable as Carrier's other air conditioner models. The Compact is made of high-quality components like a factory-installed muffler to decrease the operating level to 66 decibels, a scroll compressor to maximize unit efficiency, and a WeatherArmor cabinet to protect against the element. A 10-Year Limited Warranty covers all the functional parts, a Carrier standard.
Given it's small footprint, energy efficiency, warranty, and components, the Compact would make a good choice where space is at a premium or you just want cooling at a reasonable price in your new garage or cabin. The Compact will provide the air comfort your family has come to expect in the modern era, while at the same time leveraging new technologies to push the boundaries of energy efficiency for such model ranges. In summary, the Compact brings a big effect in a small package.
To check availability, call us at 1-800-360-1569 or visit our online store.