Carrier Infinity Series Heat Pumps
To check availability, call us at 1-800-360-1569 or visit our online store.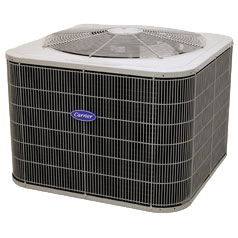 Carrier is one of the leading names in the industry for manufacturing heating and cooling systems of top quality standards. All of its heat pumps have been lauded for top end features and efficient performance. In fact, there is no exception when it comes to Carrier's Infinity series heat pumps. Covered by ten year limited warranty on the compressor plus five year limited warranty on parts, Infinity series heat pumps from Carrier provide SEER rating of up to 19.0 and HSPF up to 9.5. Its heating capacity ranges from 24,000 to 60,000 Btu/h and cooling capacity from two to five tons.
When you decide to own an Infinity heat pump, you can be assured of savings on energy bills, since it comes with a two-stage system that enables your heating system to function with limited energy. The result is tremendous savings on energy bills, especially during winter. Unlike ordinary heating systems whose noise level is 75 to 80 decibels, these heat pumps have a noise level ranging between 69 and 71, with Carrier's exclusive Silencer System II™. This in turn promotes for its quieter performance.
To ensure consistent temperature and efficient air circulation, Carrier Infinity series heat pumps are attached with Infinity® Control. Other significant features of Infinity heat pumps are:
Puron refrigerant that is eco-friendly;
Copper Microtube™/aluminum fin coil;
Infinity® electronic control board and;
WeatherArmor Ultra™ protection that safeguard your system from corrosion.
Additionally, these heat pumps deliver clean air throughout the air, as it consists of a filter drier to remove all kinds of contaminants and moisture from the system. Carrier Infinity series heat pumps are available in two models such as the 25HNA6 and the 25HNA9.
To check availability, call us at 1-800-360-1569 or visit our online store.