Carrier Heat Pumps Infinity Series
To check availability, call us at 1-800-360-1569 or visit our online store.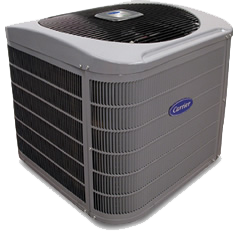 The Carrier Company has been building air conditioners and furnaces as long as anyone and is no late entry into the competitive heat pump market. Carrier heat pumps come in a wide variety of models and features designed to satisfy conflicting customer needs. The most energy efficient of the lot, however, are the Infinity Series.
At 19 SEER, the Infinity Series maintains the highest SEER rating of any Carrier heat pumps, uses Puron ozone-friendly refrigerant, boasts superior humidity and temperature control, has two-stage compressors, and 10-Year Limited Warranty on parts. The 19 SEER rating alone makes the Infinity Series among the most energy efficient heat pumps on the market, able to reliably compare against any other brand. With Silencer System II keeping the entire operation as low as 69 decibels, the Infinity Series cools and heats very softly, ideal for those who want to keep a quiet home environment.
Carrier has also built the Infinity series to last with WeatherArmor Ultra to protect against inclement weather, backed up by galvanized steel parts and completely covered by baked-on, powder-coated paint. The coil itself, a critical piece of hardware, is protected by a steel louver coil guard to prevent damage.
The Infinity Series can also come with Infinity Control, what Carrier calls their best thermostat. Working by remote control, the Infinity Control system allows the homeowner to control their system at their ease and there are even models available for remote access by phone or Internet. Forgot to adjust the air before you left on vacation? Not a problem if you have remote access and Infinity Control.
The Infinity Series is definitely the gold standard among Carrier heat pumps. It boasts an outstanding SEER and comes with every option seemingly available. Of course, all those advantages carry with them a hefty price tag. The Infinity Series makes sense if money is not a factor, but otherwise there are other perfectly serviceable heat pumps that can do the job for less.
To check availability, call us at 1-800-360-1569 or visit our online store.