Carrier Geothermal Heat Pump Comparison Review
To check availability, call us at 1-800-360-1569 or visit our online store.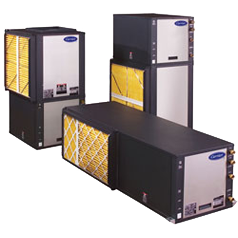 Geothermal heat pumps are rated at the very top of the line for home heating and cooling when it comes to energy efficiency and cost savings over time. Given the stable temperature of the underground environment, geothermal heat pumps can achieve efficiencies competing HVAC systems can't hope to reach much less beat. As such, geothermal heat pumps have been growing in popularity in line with the upward trend in energy costs.
The Carrier Company produces its own line of geothermal heat pumps, a necessity to stay competitive in the home heating and cooling market. If you've decided to purchase a Carrier geothermal heat pump, then you have to decide which series and model is the right choice for your specific needs. After all, your local environment can make a big difference when it comes to a geothermal heat pump. Can you install an open loop system or are you restricted to a closed loop? How much are regional energy costs? Is ground water available to act as a source and heat sink? Answering those questions will help narrow down what you need.
As far as Carrier geothermal heat pumps go, the very best is the GT-PX Series. If you can install an open loop system and your local energy costs are high, then the GT-PX Series could be the best choice for you. On an open loop system, the GT-PX can achieve a 31.5 EER, the primary measurement for geothermal heat pumps. That's an excellent rating and will almost certainly save you money. Even if you can't get an open loop, the GT-PX can still deliver a 27.0 EER on a closed loop, still a big energy saver. Of course, if money is a major issue then you can save some cash by going with the GT-PG and still get solid energy efficiencies.
If you're looking for something compatible with your already installed furnace and air handler, then the GT-PX Split Series can do that while getting energy efficiencies near to the regular GT-PX models. Again, if price is an issue, go with the GT-PE Outdoor Split and save some installation cost while still hitting 29.4 EER on an open loop.
As mentioned before, picking the right geothermal heat pump very much depends upon your local situation. Find out which unit fits best for where you live and is aligned with how much you can spend, then check out some independent reviews and make your pick. No matter which geothermal heat pump you decide on though, they are almost always a more energy efficient pick. Enjoy saving money!
To check availability, call us at 1-800-360-1569 or visit our online store.