Carrier Base Series Heat Pump
To check availability, call us at 1-800-360-1569 or visit our online store.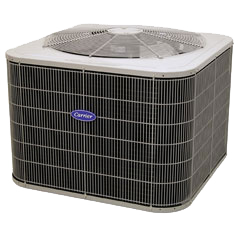 For some consumers, money is definitely an obstacle. The Base Series of Carrier heat pumps is the brand's solution to that problem. The Base Series represents Carriers lowest priced heat pumps while still staying within the legal requirements for energy-efficiency. Of course, to cut cost you have to cut something, so what does the Base Series lack?
Most Carrier heat pumps can hit a 16 SEER rating or higher. SEER measures the efficiency of heat pumps and is the golden standard for evaluating how much they will bang for the buck. The Base Series heat pump achieves only a 15 SEER, lower compared to other Carrier heat pumps, but still higher than the legally mandated 13 SEER required for residential homes. Most competitor basic tier heat pumps are 13 SEER, but this one is 15, so at least it has a leg up on its competitors.
The Base Series also doesn't come with all the accoutrement that other Carrier heat pump lines do. It has only a single-stage scroll compressor and default Carrier components like Puron refrigerant and WeatherArmor Ultra. The Base Series is also Carrier's loudest heat pump, coming in at around 71 decibels. Still, despite the cuts the Base Series maintains the standard Carrier 10-Year Limited Warranty and that is a better deal than some competitor base tier products that can have warranties as low as 5-Year Limited.
Compared to the whole line of Carrier heat pumps, the Base Series is definitely the lowest end heat pump, but then again, that's the whole purpose. The selling point is not bells and whistles, but low price, and the Base Series is that. It's also reasonably energy efficient with a 15 SEER and has a 10-Year Limited Warranty, all good for a value priced unit. So, if money is tight and you are looking to save even more by cutting energy bills, a Base Series Carrier heat pump might not be a bad investment.
To check availability, call us at 1-800-360-1569 or visit our online store.