Carrier Base Series Central Air Conditioner
To check availability, call us at 1-800-360-1569 or visit our online store.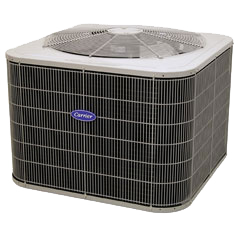 The Carrier Company is one of the pioneers of the home heating and cooling industry and still a strong leader today. Carrier produces a wide range of air conditioners, furnaces, heat pumps, and support systems for residential and commercial HVAC needs. The Base Series Central Air Conditioner is Carrier's starter line of air conditioners and, as the name implies, the basic model the company produces.
Compared to air conditioners of a decade ago, the Base Series is much more energy efficient and environmentally friendly. The Base air conditioner models can achieve up to a 16 SEER rating, which measures the energy efficiency of air comfort units like air conditioners or heat pumps. A 16 SEER rating is well above the Federal standard and will require less energy than older models. The Base series also uses Puron refrigerant. After the ozone depletion scare of the '70s and '80s, the entire industry started moving to ozone-friendly refrigerants and Puron is one of those chemicals. So, overall, the Base series has taken advantage of the march of technological innovation in the past decades to provide comfortable cooling without holding on to the damaging side-effects of the original products.
Carrier also brags that their Base series are as quiet as a dishwasher at 74 db, which you probably wouldn't hear if it was installed outside your home, and that they come equipped with a WeatherArmor louvered coil guard. And if your house is located along either coast you can equip your Base series with WeatherShield coating to protect against salt corrosion, a major consideration near those giant salty seas. Carrier also covers every Base series with a 10-Year Limited Warranty when properly registered (something you should make sure you do!).
Overall, the Base series is a solid air conditioner choice. It's not flashy and doesn't come with any wild technological doodads, but it will cool your house and do so more energy efficiently than your old model. It's also Carrier's most 'reasonably' priced air conditioner and carries the same warranty as even more expensive models. If you're building on a budget, the Base series might be a good pick.
To check availability, call us at 1-800-360-1569 or visit our online store.