Carrier Air Conditioner Comparison Review
To check availability, call us at 1-800-360-1569 or visit our online store.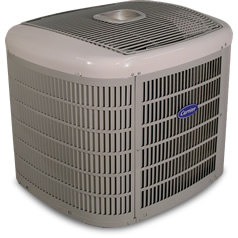 You need a new air conditioner for your home or office and you've decided you like Carrier's long history of quality products, so you're going to go with them. Of course, that's only half of the choice you have to make, but how do you decide which Carrier air conditioner will be the best fit for your needs? First, you should always check out individual air conditioner reviews, of which there are many on the Internet, but for a broader overview and a good starting point just keep reading.
Carrier has quite a few air conditioner series to meet the varied needs of consumers. These series come in a range of costs, models, energy efficiency ratings, and so on. There are a few things you don't have to worry about being different. All Carrier air conditioners come with a 10-Year Limited Warranty and every one of them uses a highly efficient scroll compressor. Those are both good guarantees you don't have to worry about.
But, you're probably more interested in the differences. On that note, the most energy efficient line of Carrier air conditioners is the Infinity Series which comes in with a 21 SEER rating. That's a very solid mark. And as you might expect what Carrier calls their Base Series has one of the lowest energy efficiencies at 16, but not the lowest. That would belong to the Compact at a 15 SEER, of course, as the Compact is designed to be smaller than most other units it has to trade away something for the space it's saving.
As far as cost goes, that roughly corresponds with SEER ratings. Higher energy efficiencies require more sophisticated and expensive technology and the Infinity Series is by far Carrier's most expensive air conditioner line. The Base Series is the cheapest and the series in between those all vary according to where they fall on the energy efficiency line.
So, which to get? You probably have a spending limit, but you also want to maximize your energy efficiency to save money down the road. Of course, if you don't have a spending limit, then get the Infinity series. If money is a serious restriction, then go with the Base series. If you're not at either extreme, then your best bet is to look at the Performance Series or the Comfort Series. Both lines offer quality energy efficiency and are more reasonably priced than the top-of-the-line Infinity.
Best advice? Do your homework. Study independent reviews of all the air conditioner models you're interested in and talk to an HVAC specialist in your home town or online. Then, buy what you need, and enjoy the cooling and the savings.
To check availability, call us at 1-800-360-1569 or visit our online store.