Can a Geothermal Heat Pump Save You Money?
To check availability, call us at 1-800-360-1569 or visit our online store.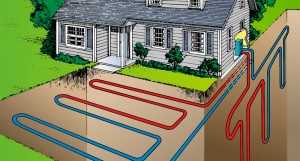 Companies like Bryant Heating & Cooling Systems manufacture a variety of geothermal heat pumps that feature ozone-friendly Puron, greater energy efficiency, achieve Energy Star geothermal closed loop guidelines, and come with a 10-year limited warranty on every part in the system. That sounds like a good deal, but we all know geothermal heat pumps have a higher up-front cost than a traditional furnace. With that in mind will an upgrade really save you money?
Geothermal heat pumps work by using the constant temperature of deep earth as an exchange medium instead of the outside air like a regular heat pump. This can increase the efficiency of a geothermal heat pump by 300 to 600 percent over an air-source heat pump. Also, a geothermal heat pump can be installed and function effectively in any part of the country – even areas that experience severe temperatures during summer and winter. A geothermal heat pump goes deep enough to where the ground maintains a constant temperature even during the worst heat wave or cold snap.
All that being said, what do the studies show? A geothermal heat pump might be more efficient, but is it efficient enough to save money? The U.S. Department of Energy says, "Yes." There are more than 50,000 geothermal heat pumps installed every year in the United States and on average they have made up their installation costs in 5-10 years of operation. This works out to substantial savings over the heat pump lifetime as the inside components are estimated to last at least 25 years and the ground loop will endure more than half a century.
So, a new geothermal heat pump from a company like Bryant can save you money on your heating and cooling bills for fifty years as well as being good for the environment with lower energy requirements and eco-friendly products. With all that behind it, it's easy to see how a geothermal heat pump is worth the cost almost every time.
To check availability, call us at 1-800-360-1569 or visit our online store.