Bryant Preferred Series Heat Pump
To check availability, call us at 1-800-360-1569 or visit our online store.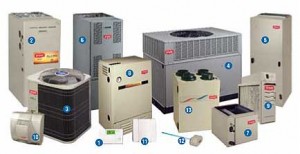 Across the country, more and more Americans are becoming increasingly interested in air-source and geothermal heat pumps. The availability of heating and cooling in one compact system alongside increased energy efficiency and a reduced electric bill is becoming more and more attractive in an era of rising fossil fuel costs. Bryant Heating and Cooling Systems has offered a variety of heat pump models for years and their Preferred Series Heat Pump is one of their best.
Bryant has equipped their Preferred Series heat pumps with a two-stage scroll compressor and fuels it with Puron refrigerant. A two-stage scroll compressor is a highly efficient design and far superior to other types. That allows the best Preferred Series heat pump to hit a 16.5 SEER rating, one of the better ratings available for air-source heat pumps and well above the Federal standard. The deal is sweetened by the Puron refrigerant, one of the first non-ozone depleting refrigerants used by the HVAC industry and a proven product. Which means you can have solid heating and cooling while not destroying the natural environment. And if you can't afford a top-of-the-line Preferred Series model, there are others available equipped with a single-stage scroll compressor, less effective than the dual-stage, but still more efficient than traditional heating and cooling units.
As far as protection goes, Bryant covers their Preferred Series with a 10-Year Limited Warranty on parts. Models are also available with the DuraGuard or DuraGuard Plus Protection Packages and every model is powder-coat painted to ward off damaging rust. The warranty and DuraGuard along with routine maintenance and regularly cleaning the air filters will insure a Preferred Series model runs for years. That combined with the solid energy efficiency any heat pump provides over traditional models will equate to substantial savings over the decades.
To check availability, call us at 1-800-360-1569 or visit our online store.